<![endif]-->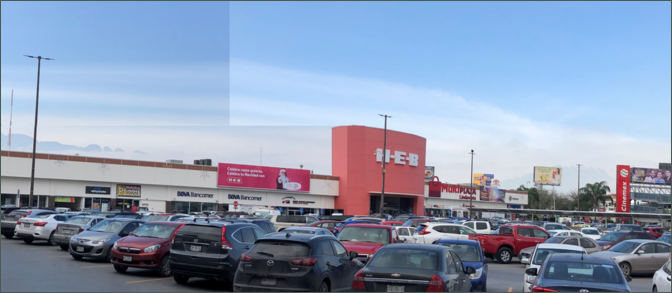 Multiplaza Lindavista
Av. Miguel Aleman No. 5054, Col. Lindavista


Guadalupe

, NL

67130
Overview
Monterrey is the third largest metropolitan area in Mexico, with a population of over 3.5 million inhabitants. The city ranks second highest in industrial production and highest in business activity, largely due to its substantial communication network, highly educated workforce and prlonged industrial growth and proximity to the United States.
Multiplaza Lindavista is lcoated in a mixed-use district in Monterrey, in the Gudalupe corridor, connecting central Monterrey to the airport and the Highway to Reynosa.
The property is within a high populated, medium income area with only one shopping centre that could be considered a competitor within a 5 km radius.
Highlights
For Lease
Type: Retail
Total SF: 381,536
Metro Area: Monterrey

Senior Retail Asset Manager
Alejandro Mota
Senior Retail Asset Manager Pedregal 24, piso 21, Col. Molino del Rey
Miguel Hidalgo, Ciudad de México 11040
p. +52 (55) 9178-7729

Multiplaza Lindavista
| | |
| --- | --- |
| Available | Coming Available |
Available Spaces
2
3,789 SF
24
457 SF
35
608 SF
36
608 SF
43
608 SF
46
511 SF
47
667 SF
48
397 SF
49
373 SF
56
666 SF
60
712 SF
61
1,221 SF
62
827 SF
64B
14,054 SF
70
409 SF
71
248 SF
72
668 SF
73
668 SF
74
668 SF
75
668 SF
76
668 SF
86
1,305 SF
95
450 SF
119
450 SF
124
458 SF
127
920 SF
135-136
1,156 SF
149 al 159a
9,647 SF
161162
686 SF
| | | |
| --- | --- | --- |
| 1 Y 1B | Wingstop Restaurant | 3,843 SF |
| 3 | Santander | 3,081 SF |
| 4 | BANCO AZTECA | 1,135 SF |
| 5 | HEAVEN | 928 SF |
| 6 | BEADS & GEMS | 767 SF |
| 7 | LOS TRES GARCIA | 767 SF |
| 8 | PC CITY | 666 SF |
| 9 | BEUTY UNISEX SALON SKIN | 480 SF |
| 10 | INE | 1,874 SF |
| 11 | YVES ROCHER | 1,109 SF |
| 12 | OPTICA MERVYN | 426 SF |
| 13 | Diva | 352 SF |
| 14 | ONE UP GAMES | 353 SF |
| 15 y 16 | 3D Lashes | 1,045 SF |
| 17 | SURPRISE | 515 SF |
| 18,19 | Gamers | 1,592 SF |
| 20 | SILVIA CARNEVALI | 928 SF |
| 21,22,26,27,28 | Promoda | 10,896 SF |
| 23 | Ticket Master | 455 SF |
| 25 | ZAPATERIA M&G | 405 SF |
| 29,30,31,32,33 | La Parisina | 8,486 SF |
| 34 | LA MACHACA | 591 SF |
| 37 | GORDITAS LA TRADICION | 608 SF |
| 38 | HONG XI | 608 SF |
| 39 | TORTAS STATION | 608 SF |
| 40 | LA COSTA | 608 SF |
| 41 | EiCi Hamburguesas, Papas y Alitas | 608 SF |
| 42 | LA TOSTADA | 608 SF |
| 44 | LA CASA DE LA ABUELA | 608 SF |
| 45 | LA ENSALADA | 608 SF |
| 50 | ROCKELOTES | 289 SF |
| 53 | PISADA PERFECTA | 423 SF |
| 54 | VIOZON | 822 SF |
| 55 | TOPPINGS TASTY | 403 SF |
| 57A | Mama2 | 321 SF |
| 57B,58 Y 59 | HERBALIFE | 1,919 SF |
| 63 Y 64A | SMARTFIT | 13,922 SF |
| 77,78 | ASHLEY | 23,160 SF |
| 79 | EL INDIO COMPRA DE MONEDAS ANTIGUAS PLATA Y ORO | 594 SF |
| 80 y 81 | RESUELVE TU DEUDA | 1,189 SF |
| 82 | INVELMEX | 598 SF |
| 83 | Amway | 621 SF |
| 84,85 | Amway | 2,111 SF |
| 93,94 | WINTER MILK | 452 SF |
| 96 | TAMALES SALINAS | 402 SF |
| 97 | FAIRY BUTIK | 450 SF |
| 98 | YORZ BARBER SHOP | 450 SF |
| 99 | NINA BONITA | 450 SF |
| 100 | TOPIA | 450 SF |
| 101 | NUMBERS & MARKETING, S.A. DE C.V. | 445 SF |
| 102 | #NAME? | 450 SF |
| 103 | GNC | 355 SF |
| 104 | AT&T | 450 SF |
| 105 y 106 | Movistar | 628 SF |
| 107 | TRESH | 309 SF |
| 108 | PROMUEVE Viajes | 320 SF |
| 109 | JEWELRY JOYEROS | 337 SF |
| 110 | AMADEUS | 320 SF |
| 111 | CLINICA OFTALMOLOGICA | 363 SF |
| 112 | KIPI ESTETICA INFANTIL | 320 SF |
| 113 | Perfumes y Esencias Fraiche | 355 SF |
| 114 | AT&T | 450 SF |
| 115 | MARIA DE MEXICO EXPRESS | 445 SF |
| 116 | Carola Carranza | 450 SF |
| 117 | Pacalli | 450 SF |
| 118 | Muzza | 450 SF |
| 120 | EXCLUSIVAS LOZANO, S DE R.L. DE C.V. | 450 SF |
| 121 | Swisslab | 745 SF |
| 122 | Opticas Devlyn | 417 SF |
| 123 | Nutrisa | 376 SF |
| 125 | Bolsamia | 460 SF |
| 126 | Andrea | 933 SF |
| 128 - 132 | Bancomer | 2,954 SF |
| 133 | Mutcha Pizza | 578 SF |
| 134 | MAS EMPANADAS | 578 SF |
| 137-141 | Banco Inbursa | 2,891 SF |
| 142 | Tok's | 9,482 SF |
| 143 | CI BANCO | 2,070 SF |
| 144 | Dentalia | 1,954 SF |
| 145 | AXTEL | 1,837 SF |
| 149 al 158 | Jumpstation | 8,019 SF |
| 159 y 159a | Von Nacher Tae Kwon Do | 1,628 SF |
| 160 | VEAUTO | 463 SF |
| 165 y 166 | ITO`S | 686 SF |
| 167 y 168 | EPS ENGINE POWER SHOP SERVICE AUTOMOTRIZ | 2,091 SF |
| 202 | Heb Grocery Company, Inc. | 110,008 SF |
| 163164 | Heb Grocery Company, Inc. | 572 SF |
| 146147148 | BANREGIO | 4,856 SF |
Multiplaza Lindavista